Click to See Dr. Qing's actual patients who received denture treatment. Even a regular denture could be very retentive (see the video) and patients rarely need to use any denture glue.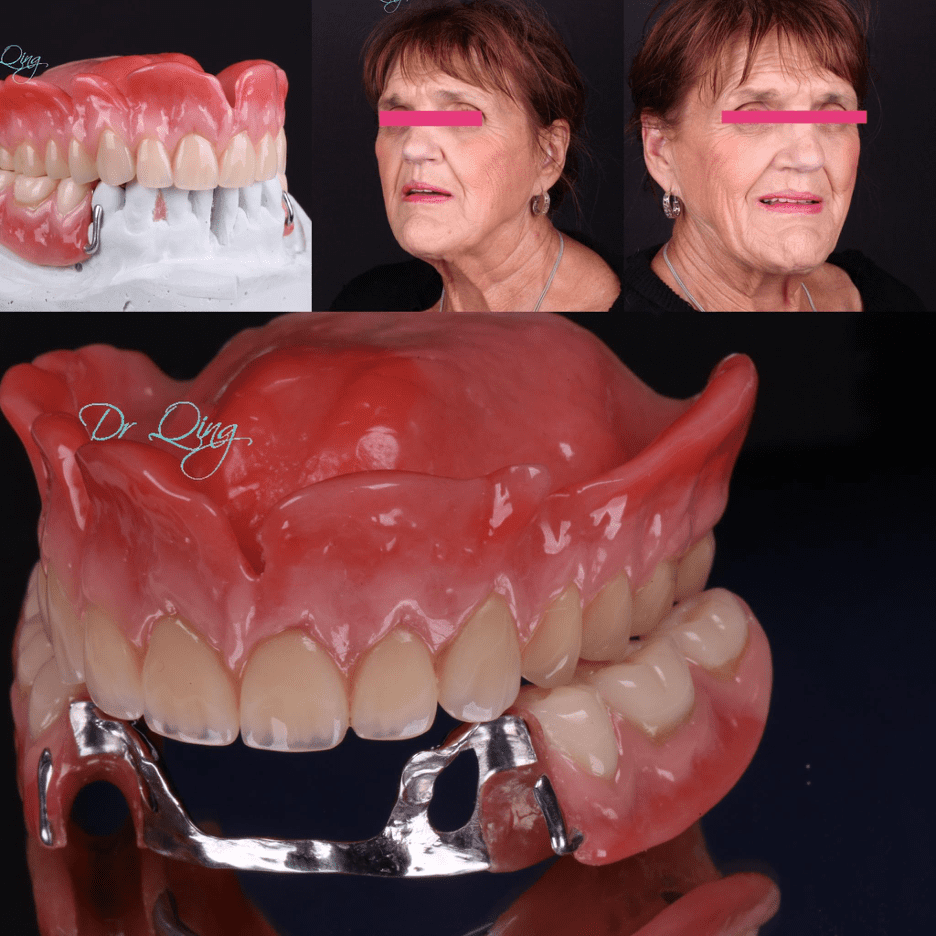 Dentures are removable dental appliances that replace missing teeth and benefit oral health. Dentures can fill in the gaps in your smile and prevent the shifting of surrounding teeth. They can also help restore your appearance and improve your confidence.
Dentures are custom-made to fit you. The base is typically made of acrylic resin, and the teeth are made of acrylic or ceramic. They can be fabricated to replace a small number of remaining teeth or an entire row of teeth.

Conventional Dentures

A conventional denture is a prosthetic device that replaces all of the teeth in an arch. Conventional dentures are made of a gum-colored plastic resin base that supports a full set of prosthetic teeth.

Implant-Supported Dentures

Complete dentures are used when all of the teeth are missing. There are special dentures called implant-supported dentures that are secured to dental implants. Implant-supported dentures are more comfortable and more natural looking than complete dentures.

Partial Dentures

Partial dentures are used to replace multiple missing teeth. The denture is custom-crafted and shaded to match your natural smile. The dentures are fitted to rest securely on the gums, allowing you to eat, smile, and speak with confidence. Partials restore only the missing teeth and sit amidst the existing natural teeth.

Immediate Dentures

Immediate dentures are dentures that are placed right after tooth extraction. They may be necessary when the extraction site doesn't have sufficient bone for a traditional denture. Immediate dentures are fitted immediately after tooth extraction. They may not fit perfectly at first, but your dentist can adjust them until they do.

Advantages of Dentures


Much more affordable than implants: Getting regular dentures is significantly cheaper than getting implants. 

There's no surgery involved, so it's a pretty straightforward procedure.

Easy to clean: Dentures are very easy to take care of. All you need to do is take them out and clean them when needed.

They are a long-lasting solution: While dental implants are a longer-lasting solution, dentures are a great option as well. They can last many years with proper maintenance.
To find out more about the dental services offered at Bucks Dental, call (215)-220-3395 or schedule an online consultation. You can also visit us at 1151 S Broad St, Lansdale, PA 19446.